Ipoh Parade Welcomes the Year of the Rabbit
If the world enjoyed a slow and steady return to normalcy in 2022, then the start to 2023 can only be described as the complete opposite as Ipoh Parade kicked off its Chinese New Year (CNY) programme just one week into the new year. Pine trees and jingle bells were immediately swapped for blushing plum blossoms and crimson lanterns to set the dong dong qiang scene for another wonderful time of the year, and already the electrified masses at Ipoh Parade were hungry to absorb anything that screamed CNY.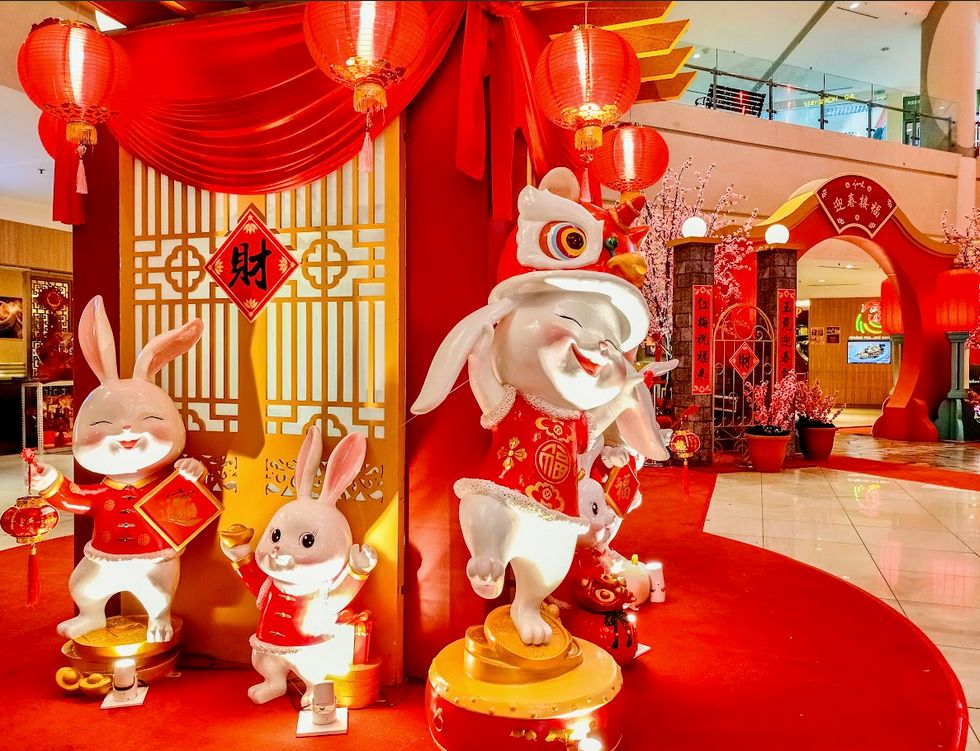 Ipoh Parade celebrates the Year of the Rabbit with a bang!
Bounding on stage like a bunch of happy bunnies on Saturday were the fast-growing ThreeeP (Threee Production) crew, famous for their massively popular CNY hits like "Hu Else" which raked in 10 million views on YouTube, and The Kuans, a trio of siblings who have made it big on social media platforms such as TikTok. The amassing crowd at Ipoh Parade's Main Court was only testament to the sheer influence these individuals had over a digital audience in a physical space, and many were thrilled to herald the Year of the Rabbit simply by witnessing their funny antics on stage.
On Sunday, the festivities continued with an appearance by 8TV's celebrity entourage, on the road to promote their latest CNY hit "活力满分Love You兔". "It might be jarring to some to be celebrating Chinese New Year this early, especially since we have just gotten done with Christmas only a few weeks ago," remarked Lim Huey Tyng, Manager of Advertising & Promotions at Ipoh Parade. "However, we do see it as a form of double prosperity, especially for the retail industry, considering the rough past few years we've experienced, so we're just enjoying the festive atmosphere as much as we can."
From medieval castles to towering pagodas, the seemingly unending festive mood and abundance of sales have done wonders to rally visitors to spend at the mall, much to the joy of retailers. The
volume of shoppers and bargain hunters choking the mall's aisles and hallways were a good sign that much trade was afoot, and the people will only continue to demand for more in the coming weeks as they prepare for reunion dinners and gift exchanges.
As the saying goes, CNY would not be complete without a lion dance performance. This year,
shoppers at Ipoh Parade received a double blessing with the lively double dragon and lion dance
performances. The crowd was thrilled with the entertaining performance of a playful dragon and
three lions, who tossed oranges to the crowd as they danced.
In conjunction with the CNY festivities, Ipoh Parade is rewarding shoppers through a redemption
programme and a "Spend & Win" campaign. From now until 21 January 2023, shoppers who spend
RM300 and above will be able to redeem an exclusive Ipoh Parade CNY floral ceramic teapot, which
comes in four different designs, as well as a set of specially designed ang pow packets. The
redemption is based on a first-come, first-served basis and while daily stocks last.
From the submission of the receipts for redemption, the top spender for the day will be selected
across the 15 days of the "Spend & Win" campaign. These 15 top spenders will then be invited to
compete and complete a series of challenges at Ipoh Parade on 4 February 2023 to win more prizes
worth a total of more than RM10,000.