Children from 7 Ipoh Homes Celebrate Early Christmas with Ipoh Parade
while a talent contest rounds up the year's Events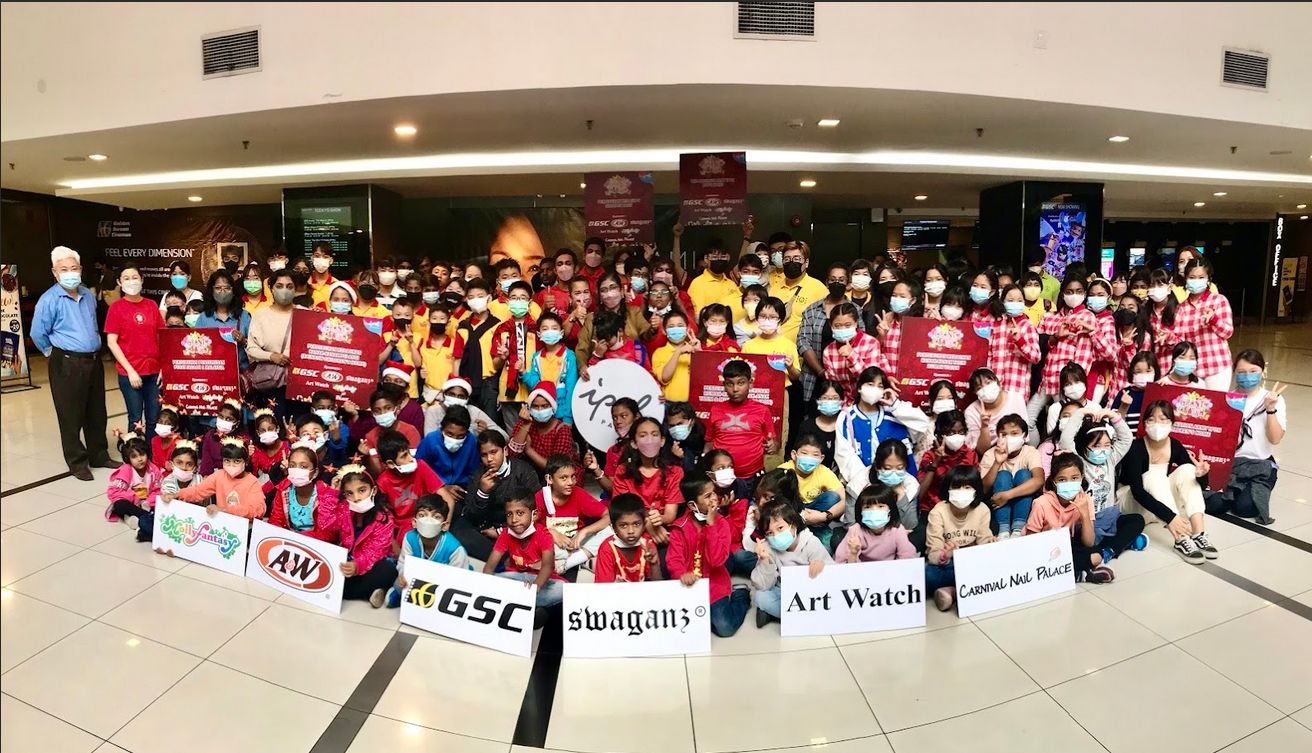 Ipoh Parade's Grant-A-Wish programme saw 125 children receiving early Christmas treats comprising a movie, food and presents. Laughter filled the hall at GSC Ipoh Parade where the Malaysian computer-animated action comedy film, Mechamato Movie was shown.
After watching the Mechamato Movie, the children savoured A&W's exclusive Chicken Sandwich, French Fries and a packet of Ribena. Mascots A&W's Rooty and Molly Fantasy's Lala were at the main court greeting the children as they were having lunch. As the highlight of Ipoh Parade's Grant-A-Wish programme, the children were presented with presents they wished for, which were fulfilled by kind-hearted shoppers and generous tenants of Ipoh Parade, including Art Watch, A&W, Carnival Nail Palace, GSC, Molly Fantasy and Swaganz.
Ipoh Parade's Grant-A-Wish programme has been running for the 11th year this Christmas. Ipoh Parade's Advertising & Promotions Assistant Manager, Lim Huey Tyng said, "It has always been our goal to bring smiles to these children, who are less privileged than the majority of us, and we are glad and appreciative that our shoppers and tenants who contributed have been generous in helping us fulfil the wishes of these children."
Throughout this month-long programme, a total of RM1,700 was collected from our shoppers and tenants, and all of the children left with a gift and a smile on their faces.
On the same day as the gift presentation, Ipoh Parade held a talent contest "1 minute to fame" #1m2f for category of ages 13 and above. The contest ran for two days and drew about 50 participants from around Ipoh, who displayed a multitude of talents, such as singing, dancing, magic show and diabolo.
Kimberly Ng crowned the Overall Champion in category A with her performance of Latin dance with singing and won a total of RM1,000 worth of cash and prizes. While in category B, Marcus Chong dazzled the crowd with his supple and poetic Chinese traditional dance with bumbershoot. He walked away with RM1,500 worth of cash and prizes.
Marcus is 18 years old and has been learning dancing for 10 years. He started with ballet and fell in love with traditional Chinese dance forms in his teenage years. He appreciates the beauty and elegance of traditional Chinese art forms.
"It is as if there is an ancient soul living in me, I love all things with Chinese traditional elements in it. In addition to Chinese dance, I study guqin, a seven-stringed Chinese instrument, Chinese calligraphy, Chinese ink painting, and Chinese tea ceremony" said Marcus.
Another contestant, Ahmad Afif bin Hasan, 33, who won a gold medal at the contest, is grateful for the opportunity to showcase his talent as a magician. "I am glad I took part in this contest because no other contest brings together talents from various fields for competition. I appreciate the judges' comments, which will help me improve on my shortcomings," said Ahmad Afif, a primary school teacher who is passionate about performing magic shows.
Lim of Ipoh Parade thanks all the participants for taking part in this one-of-a-kind talent contest, which Ipoh Parade is organising for the 3rd time.